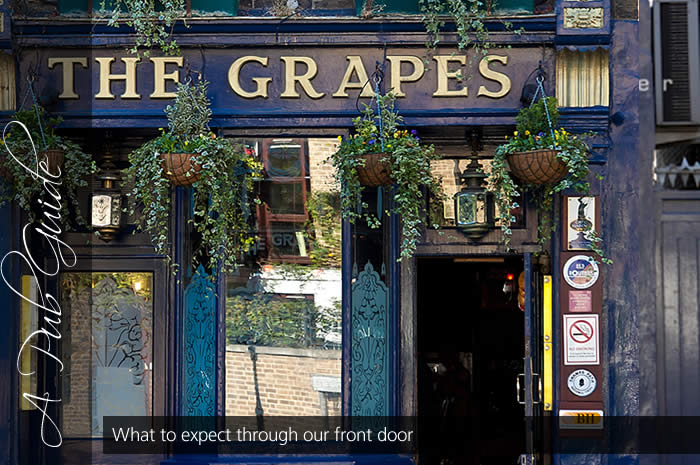 Meeting up with an old friend we decided to abandon the usual haunts of the West End, Southbank or Covent Garden and decided to broaden our horizons to Limehouse and
The Grapes
Public House and restaurant.
This narrow little building backs onto the Thames and is owned by Sir Ian McKellen and Evgeny Lebedev (owner of The Evening Standard) and has been a public house for 500 years. If you like to step back into history along with downing a pint while watching the boats go by then this really has be on your visit soon list.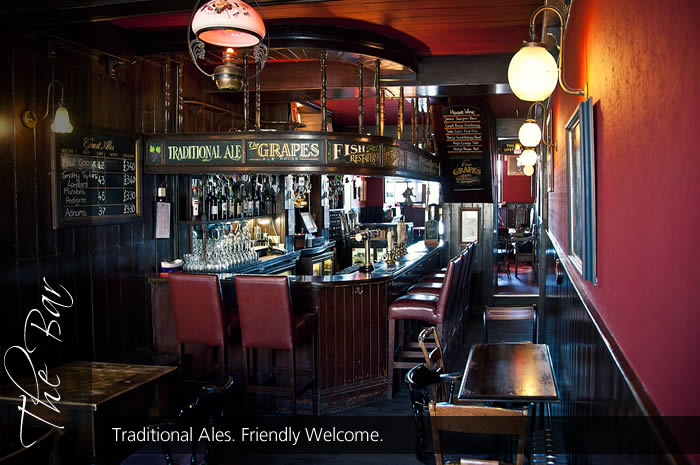 Originally known as The Bunch of Grapes the official address is 76 Narrow Street, London E14 8BP.
Charles Dickens knew the area well - he visited his godfather in Limehouse in 1820, but the pub's history stretches further back. It will have been in existance when Queen Elizabeth 1 laid claim to a city that was the centre of world trade - her explorer Sir Humphrey Gilbert lived in Limehouse. Sir Walter Raleight set sail on his third voyage to the New World from directly below the pub and in 1661 Samual Pepys' diary records his trip to the lime kilns at the jetty just along from
The Grapes
.
It is The Grapes which obviously inspires Charles Dickens in Our Mutual Friend 'A tavern of dropsical appearance...long settled down into a state of hale infirmity.'
Well things have improved somewhat in the last 200 years or so and this little pub is far from a state of infirmity. We had a drink out on the balcony and incredibly the sun shone, then it was in and up the narrow staircase to a room resembling a Captain's cabin for lunch. You have to book in advance - it was packed but they kept our table while we took in the scenery and our waitress was both efficient and attentive.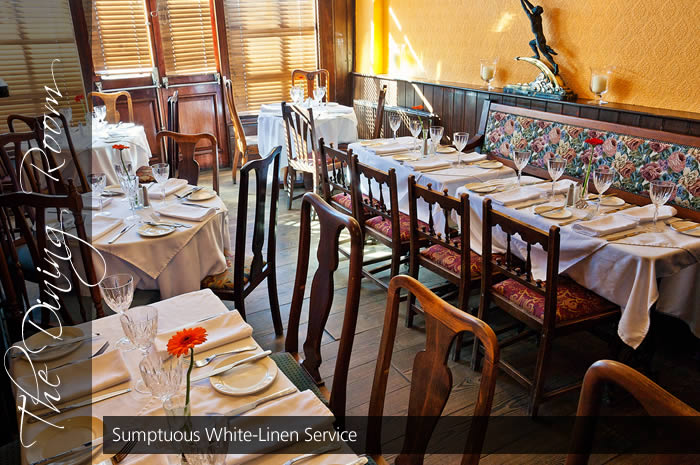 I agree with owner Ian McKellen who states that the pub feels like a local but welcomes visitors, not always the case with tiny little old pubs it has to be said.
The menu was fairly limited but with enough variety to make sure there was something for everyone. I couldn't resist the squid to start - I was expecting battered rings as would be the norm for standard pub food, but was delighted to find it was a whole, small squid which had been charcoal grilled and was beautifully fresh and served with a chilli dipping sauce. In terms of the the main course the rest of my party opted for steaks which looked very good indeed but I didn't regret my butternut squash rissotto which was full of flavour and the perfect portion size.
Desserts were traditionally British and there was a wide selection of ice-creams.
Here is the menu from
The Grapes
to whet your appetite.
The Dining Room
Starters
Soup of the Day
£4.95
Dressed Crab with Quail's Egg
£7.50
Traditional Deep-Fried Devilled Whitebait
£5.75
Crispy King Prawns with a chilli dipping sauce
£5.75
Lobster Bisque & Fresh Herbs
£5.75
The Grapes handmade Fish Cakes
£6.95
Main Courses
Scallops wrapped in bacon on bed of tomato
£12.95
Haddock Fillet, Grilled or Crispy Battered
£12.95
Wild Mushroom & Roasted Vegetable Risotto
£10.95
Rib Fillet Steak with Garlic Mash
£15.95
Slow Roasted Lamb Shank

£16.95
Sir Ian's Shepherd's Pie
£12.95
Whole Roasted Sea Bass with Lemon & Parsley Butter
£15.95
Side Orders
Potato Mash with Garlic
£2.95
Leaf Spinach with Olive Oil and Nutmeg
£2.95
Green Pea Mash
£2.95
Hand Cut Chips
£2.95
Vegetable of the day
£2.95
Green Salad / Mixed Salad
£2.95
And the bill? with drinks it came to £68 per couple including a tip.